Matthew Labyorteaux (8 December, 1966) began his acting career at the age of four when he was cast as the son of Gena Rowlands and Peter Falk in the Oscar nominated film "A Woman Under the Influence," directed by the late John Cassavettes. Although his credits include over 50 commercials, numerous guest starring roles, and four television series, Matthew is probably best known for his role as "Albert Ingalls" in the long-running television series "Little House on the Prairie."
Although born and raised in Los Angeles, Matthew Labyorteaux knew at a young age that his career would one day lead him to New York City, when at the age of 8 he was cast opposite Susan Sarandon, Judd Hirsch and Sterling Hayden in the gritty New York cult film "King of the Gypsies."
Now living on Manhattan's Upper West Side, he has focused his attentions for the past 15 years on his voice-over career, filling his days as the voice of the much beloved "Clifford the Big Red Dog" and the lead in the hit cartoon "Yu-Gi-Oh" as well as the announcer for many products including McDonald's, Purell, Sudafed, Day's Inns and Toyota.
http://video.voicebank.net/vb2pub/1597/cabinet/publicaudio/Commercial%20-%20Men/Labyorteaux%2C%20Matt.mp3
Matthew Labyorteaux recently was acknowledged for his narration of the children's book, "Leon and the Champion Chip," which won for best recording of the year in the Young Adult audio-book category for Harper Collins.
Little House on the Prairie
Little House on the Prairie
Little House on the Prairie
This is what Michael Landon told People Magazine in 1978 about the adopted brothers Patrick and Matthew Laborteaux:
The two relative newcomers to Little House, Patrick and Matthew Laborteaux, arrived after perhaps the hardest journey of all, aided by their remarkable adoptive parents, Ron and Frankie Laborteaux. He is an interior designer and she a former actress. "Patrick was diagnosed as a schizophrenic at the age of 3 weeks because he was so high-strung he couldn't keep food down," remembers Frankie. "When we got him he was suffering from malnutrition and was exhausted. He would break out in a cold sweat when anyone tried to touch him. With a lot of love and a firm, gentle hand, his symptoms had disappeared in a couple of years. Our success made us want to adopt another child. That was Matthew.
"The adoption agency told us he had been born with a hole in his heart that would heal naturally," Frankie continues, "but they would never acknowledge he was also autistic. He didn't walk until 3 or talk until 5. He slept standing up in his crib, and when anyone would try to pick him up he would scream and try to get away. I spent months on the floor with Matthew screaming and me holding him down telling him that no matter what he did I would love him."
Doctors and psychiatrists held out little hope that Matthew would ever be normal. But brother Patrick had started acting as therapy and by 7 was a veteran of Cheerios and McDonald's commercials. One day Matthew tagged along to a United Way audition. "The lady asked if Matthew wanted to test," Frankie recalls. "I was panicked. He-would throw a tantrum if anyone touched him. But Matthew just got up and followed her into the room. It was like sitting on a powder keg smoking a cigarette." He not only won that part but went on to play Peter Falk's son in the movie A Woman under the Influence. Patrick joined the Little House cast last year, and then Landon remembered a promise he'd made to some friends whose son was killed in a car crash—"that if I ever found a boy who had Albert's qualities I would put him on the show and call him Albert."
Matthew, who had already played Landon himself as a boy in flashbacks, debuts this fall (1978) as Albert. Though the Laborteaux family is still in difficulty—Frankie had a stroke four years ago, and Ron suffers from a serious, yet-undiagnosed illness—the success of their boys is cheering. "It's funny," Frankie reflects. "Patrick is blue-eyed and has light hair, and Matthew is brown-eyed with dark hair, but people automatically know they are brothers. Melissa Gilbert said to Patrick one day, 'Don't you two ever fight?' They really don't. They've been through too much to bother with pettiness."
Little House on the Prairie
Little House on the Prairie
Little House on the Prairie
'Little House On The Prairie' cast reunion on April 30, 2014:
Matt with Johnny Timko in June 2013: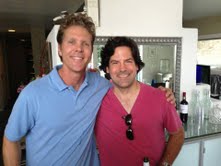 A photo from 2012: